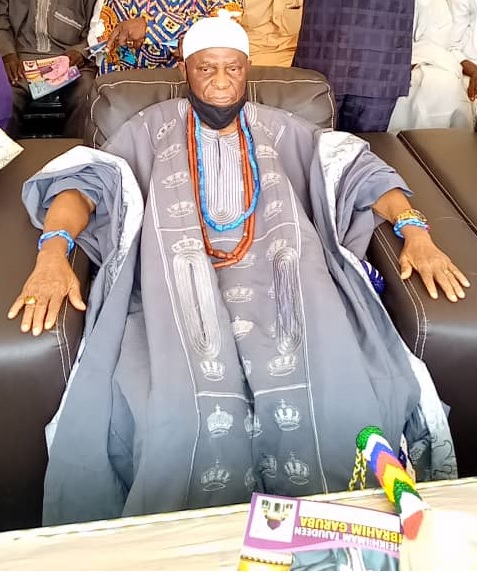 Otaru of Igarra Lauds Installation of New Imam, Calls for Prayer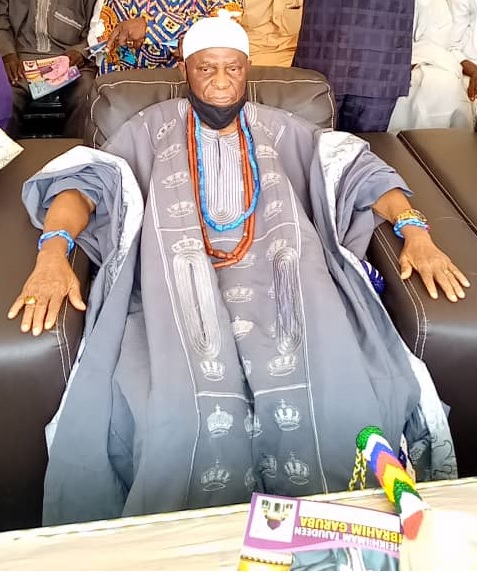 HRH Oba Emmanuel Adeche Saiki II, the Otaru (paramount ruler) of Igarra/Akuku Clan, has lauded the installation of Sheikh Imam Tajudeen Garuba as the new imam of Igarra calling for prayers for the 29 years old to successfully lead his fellow Muslims.
Oba Saiki who was the Royal Father of the Day at the elaborate ceremony which was held at the Igarra Central Mosque also called on the entire Igarra community to support the new Imam saying "Today, I am very happy to be here to witness the turbaning of our son. Today is another great day for Igarra, that Igarra was able to yet again produce another imam in this town is a good development. Our prayers for the new imam is that God will grant him long life and good health that God will show him the way and wisdom to lead his followers. This will also be the responsibility of my people to continue to pray for him for good health and long life."
On his part, the new imam said one of his aim is to build an Islamic Centre to check cybercrime in the community through teaching of morals.
Speaking shortly after he was installed in a colourful ceremony held at the Igarra Central Mosque which attracted several Islamic scholars and leaders from Kogi, Ekiti, Abuja and other parts of the country, Garuba lamented that cybercrime was not limited to young but all and sundry are involved.
He said: "Looking at our community critically, we will see a lot of challenges staring at us in the eyes. The level of moral decadence among the youth is alarming; internet fraud, cultism and drug abuse. We are in a community where cybercrime (Yahoo yahoo) is perpetrated by all and sundry. It cuts across young, old, males and females excepting a few.
"There is no better time to confront these challenges than now, through proper Islamic orientation We must therefore work together to establish a standard Islamic Centre for the community that will hatch potential Da'ees (Islamic converts) for the immediate spiritual needs of the community and beyond.
"In the face of daunting national and global challenges, we have no other solution than to collectively return to our creator in penitence and supplication".
On his part, the guest lecturer, Sheikh Lukman Ibn Imam Musa Galadima said an imam must be peaceful, generous and humble in the mould of notable imams in the holy Quran.
In a keynote address, Alhaji Kadiri Nasiru said the installation of the new Imam marked a new beginning in the community and urged him to be fair to all in his dealings and "be just and true and transparent in all circumstances. The Muslim community has trusted you to keep uniting us without any form of personal sentiments."