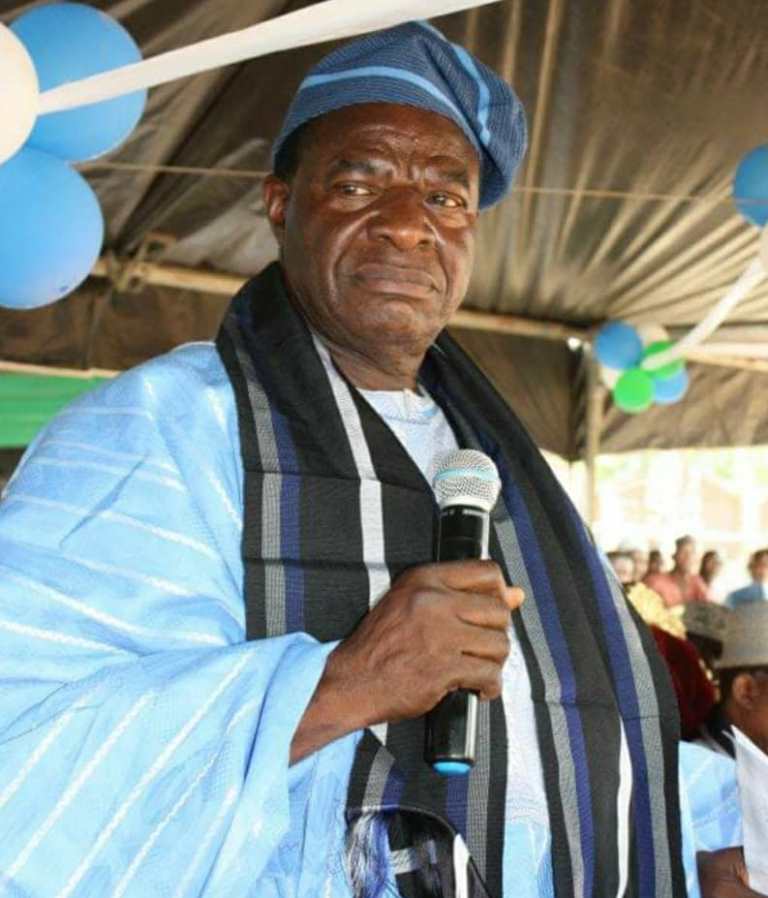 Chief Samuel Sunday Obaro, the Oshireku of Igarra, Goes Home in a Blaze of Glory
The remains of Chief (Bar.) Samuel Sunday Obaro, the Oshireku of Igarra, who died on March 11, 2021, were interred on April 23 in his compound on Sam Obaro Street, Igarra. Prior to the interment, Igarra community and the legal community celebrated his life with a valedictory service held at the Edo State High Court, Igarra as well as a service of songs and wake-keep on April 22, 2021.
Chief Obaro was a great man who etched his footprints in the Igarra Hall of Fame. He also made his marks in Akoko-Edo Local Government Area, Edo State and in fact Nigeria. It was therefore no wonder that the revered Arigede drums were rolled out to celebrate his life and return to his maker during his burial rites. All the burial ceremonies and the calibre of persons who attended them point to the kind of fulfilled and fruitful life Chief Obaro lived on this planet and how mush he touched people's lives.
At the valedictory session an Igarra Legal Icon Chief C.D. Bello revealed a secret to the public. Chief Bello said Chief Obaro was once his teacher at St. Paul Anglican Grammar School adding that Obaro was a genius who taught them Literature in English without opening his book when he came to class to teach. He further said that late Chief Obaro's humility was second to none. The Chief Judge of Edo State, represented by Honourable Justice sitting at Igarra High Court, stated that for over five decades of late Chief S.S. Obaro legal practice, he was never been found wanting as he was a professional to the core.
Born on the 6th of November 1938 in Igarra, the headquarters of Akoko-Edo Local Government Area in Edo State, Chief Obaro was the fourth surviving son of Okomayin Joseph Izuse and Mrs. Abigail Owanza Obaro of the Eshinavaka Royal Family. His paternal grandfather was the son of Otaru Aibobo and his mother was the sister of Otaru Idanage.
It was about the time of Samuel's birth that Apostle Joseph Balalola, the founder of Christ Apostolic Church (CAC) visited Igarra for evangelization. His father and mother were converted to become Christians and were subsequently baptized and became founding members of the Christ Apostolic Church (CAC) in Igarra. Chief Obaro attended the CAC with his parents from a tender age and remained a devout member of the church till his death. His mother was "Iya-ijo" of CAC until her death. Little Samuel was the first baby to be christened in the Christ Apostolic Church in 1938.
He attended the Apostolic Primary School, Igarra from 1944-52 and proceeded to Holy Trinity Grammar School, Sabongida Ora, Owan West Local Government Area in 1952, where he obtained his West African School Certificate (WASC) in 1958. Chief Obaro was admitted to study Government and Law at the Exeter University, Exeter England from 1961-1964. He was called to the English Bar (Lincoln's Inn) on 9th February, 1965 and was subsequently enrolled at the Nigeria Law School. He was called to the Nigerian Bar on 30th July, 1965. He was the first lawyer to be produced by Akoko-Edo Local Government Area.
During his student days, Chief Obaro was most prominent during each of the Annual Prize Giving Day which was usually part of the ceremonies after the annual Inter-house Sports. In his immaculate white uniform, he was usually called up to collect the prizes for the best performing student in his class in at list six of the nine subjects and was fondly called "Booker T Washington". At the end of his secondary education at the Holy Trinity Grammar School he confirmed his consistent leading academic performance in his class by coming out with a Grade 1 West African School Certificate in 1958.
In 1956 when he was still only in class 4 at the Holy Trinity Grammar School Sabongida Ora, the Anglican Church authorities who were the proprietors of Holy Trinity decided to establish another Grammar School in Igarra which is today, St Paul's Anglican Grammar School, Igarra. Reverend Imevbore Edeki who was then one of his teachers at Holy Trinity Grammar School was appointed by the Anglican Church Authorities as principal designate of their then proposed Grammar School at Igarra in or about June 1956.
Rev. Edeki took him along with him to Igarra to conduct the entrance examination and selection interview for the first set of students to be admitted to the new Grammar school at Igarra. At Igarra Rev. Edeki and young Samuel supervised the written entrance examination and conducted the physical test and selected the first set of students at St. James's Elementary School grounds at Ugbogbo Quarters of Igarra.
Rev. Edeki was very impressed with Samuel's performance when they conducted the entrance examination and interview of the first set of students to St Paul's Grammar School in 1956  and when in December 1958, the result of his West African School certificate examination was released and he made a Grade 1, Rev. Edeki without any hesitation offered him a teaching appointment (without him applying for it) at the St Paul's Anglican School, Igarra where he was then Principal, specifically to teach British History, English Literature and Mathematics, subjects Rev. Edeki knew Samuel was very good at while at Holy Trinity Grammar School when he was a teacher there. Samuel taught in St Paul's for the whole 1959.
One day in February 1960, while Samuel was teaching, a fairly elderly man came to the school on a bicycle and someone came into the class to whisper to him that the man wanted to see him outside. He went out to see the person and the man asked Samuel if he knew him. Samuel answered in the negative. The man then introduced himself as Chief Okuo Luse who later ascended the throne as Otaru (Paramount Ruler) of Igarra. Chief Okuo Luse, excitedly asked Samuel if he was the Igarra boy who obtained Grade I in the West African School Certificate, for which he congratulated Samuel and informed him that he was a Councilor at the Akoko-Edo Local Council and that they have passed a resolution in the Council to award scholarships to three Akoko-Edo students, for higher education studies.
Chief Luse informed Samuel that he believed that with his outstanding secondary school result, he was qualified for the award of a scholarship and advised Samuel to go to the Council Secretariat to collect the application form and apply. Samuel rushed to the Secretariat the next day to collect and complete the application forms, and this singular incident accounts for his very close relationship and total loyalty to His Royal Highness, Okuo Luse II from the time he ascended the throne in 1971 as Otaru of Igarra and throughout his reign.
In 1960, he was interviewed for the Western Region Ministry of Education scholarship by a panel led by then Principal of Edo College Benin, Mr. Eno Bakare, and he and one other candidate were successful. Consequently, he was informed that he was to proceed to a polytechnic in the United Kingdom for a diploma in Public Administration. The polytechnic college identified for him was Balham and Tooting College, London. The Western Region Ministry of Education processed all his travel documents including his British passport, and he departed by air for London on the 25th of August 1960 in the company of about 90 other scholarship students sponsored by then Western Regional Government.
Soon after settling down at Balham and Tooting Polytechnic, Samuel was so disappointed both in the content and the surroundings of the school generally, that he made up his mind not spend two years pursuing a Diploma Certificate there. He therefore decided to register with the Rapid Results College (a correspondence college) to prepare for his Advanced Level Examinations in three subjects. He also went ahead to enroll for the advanced level examinations. Thus, he never attended the polytechnic lectures but settled down to prepare for the examinations relying entirely on correspondence lessons received from Rapid Results College.
He sat for the Advanced Level Examination in November that same year and by the grace of God, he passed in flying colours and was consequently admitted into Exeter University to resume there in October 1961 and for a Bachelor of Arts combined Honours (Government and law). While waiting to resume at the University, he enrolled at Lincolns Inn court at the Council of Legal Education London. Thus, he commenced his professional law studies. At that time, to gain admission into the Inns of Court, the minimum qualification was an outstanding school certificate or Cambridge school certificate which, luckily, Samuel had; hence it was possible for him to obtain admission to one of the four Inns of Court in London where the English lawyers obtain their Barrister-at-Law professional certification.
After three years at the Exeter University, He came out in June 1964 with a B.A. (combine honours Government and law). By 1965, he had also satisfied all the conditions for call to the English Bar, which he was pursuing concurrently with his University degree. On the 9th of February 1965, he was called to the English Bar and awarded the Barrister-at-law (BL) certificate at the Lincolns Inn of Court London. When he returned to Nigeria in 1965, he enrolled at the Nigerian Law School, Lagos. At that time Law School only lasted for 3 months, and was called to Nigerian Bar and enrolled as Legal Practitioner at the Nigerian Supreme Court on the 31st July, 1965. As an undergraduate he participated actively in student's politics and in 1962/63 session was elected as the only African member of the Student Executive Council of the University.
Before his return to Nigeria after obtaining his University degree in 1964 he applied to United Africa Company (UAC) for employment. The late Chief Abebe who was then the Personnel Director of UAC (Nig) Limited went to the United Kingdom to interview him and other applicants at the Unilever House in London. Following the interview he was offered the position of Assistant Manager in the UAC subsidiary company called the Northern Assurance Insurance Company (which was later United Insurance Company (UNIC). Before He returned to Nigeria, he had also undergone a three-month manager in training course at the Northern Assurance Company Headquarters in London. After he completed his course at the Nigerian Law School in Lagos in 1965, he went to resume as Assistant Manager (Claims) at the Northern Assurance Company Headquarters at the Marina Lagos. He was there for only three months before resigning to pursue a successful career in law that spanned over 50 years.
After resigning from Northern Assurance Insurance Company, he started his law practice in the chamber of Giwa and Atilade Legal Practitioners at 11 Martins Street in Lagos in 1965. After about five years with Giwa and Atilade he left to establish his own practice at 45 Martin Street, Lagos. He was appointed Commissioner in the October 1975 in the Midwest Executive Council (later Bendel State) from which he resigned in 1978 to participate in active politics, which the then Obasanjo military administration had allowed to commence that year.
In his entire professional and political career, Chief Samuel Obaro was never involved in any corrupt, improper or unprofessional conduct. He was highly regarded and respected by colleagues, contemporaries and general public. He served his community, State and Federal Governments and in business in various capacities, some of which are identified below;
Member of the Public Officers (investigation of assets) Tribunal in Bendel State (1968-69)

Member, Midwest Public Accounts Committee (1968-1974)

Member, Midwest/Bendel State Library Board (1974-1975)

Honourable Commissioner in the Midwest/Bendel State Executive Council (1975-1978) -various times as: Commissioner for Chieftaincy Affairs and Culture, Commissioner for Establishment and Acted as Attorney General and Commissioner for Justice)

Member, General Counsel of the Bar (1990-1992)

Member, Nigeria Council of Legal Education (1991-1993)

Member, National Executive Council of the Nigerian Bar Association (1985-1991)

Board Member, Chase Merchant Bank Nigeria Limited (1980-1983)

Director, Agura Hotels Limited, Abuja
As a Commissioner, he was always conscious of his responsibility to the Akoko-Edo Local Government Council to which he presumed to represent in the Council, even though he was not elected by the people. He held himself out as the people's Commissioner and was very accessible. With his assistance, four (4) Secondary Schools were approved for Okpe, Uneme-Osu, Ikpeshi and Igarra Girls Grammar School (Initially Otaru Girls Grammar School). The Igarra Technical College and the Local Government Training School, Bekuma were also established by the State Government in his time. In the Health Sector, the Ibillo General Hospital was also built. This also applies to the Okpe/Idogun road that was tarred during his time. As an active and senior official of the NPN, President Shehu Shagari's party, Chief Obaro was able to attract or influence the take-over of the Rural Electrification of Akoko-Edo by the National Electric Power Authority (NEPA), he facilitated the introduction of telephone service (NITEL) in Igarra and South Ibie (Etsako West LGA) and the construction of the Post Office in Igarra.
On the home front he contributed in no small measure to attract respect and honour to the traditional institutions in former Bendel State when he was the Commissioner for Chieftaincy Affairs and Culture in the State between 1975 and 1977. His efforts in this direction with the support and encouragement of the former Oba of Benin (Erediauwa II) who was then the Edaiken of Benin and also Commissioner at the time including other members of the State Executive Council resulted in the enactment of the Traditional Rulers and Chiefs Edict (now law) of 1979 which is still in force in Edo and Delta States till date.
He was for a long time the Chairman of the building Committee of Christ Apostolic Church (CAC), Igarra and greatly devoted his time and resources in supporting the activities of the Church.
Chief Obaro's Political Activities
Foundation member of the National Party of Nigeria (NPN)

Assistant National Secretary and Member of NEC of NPN (1979-1983)

Member of the Bendel State Executive of the NPN (1980)

Deputy National Secretary, NPN (1980)

National Legal Director, NPN (1983)

Foundation Member of the National Republic Convention (NPN)

National Delegate to the first national convention of the NRC and Candidate for National Chairmanship position (1990)

Chairman and Returning officer for the NRC Gubernatorial nomination primaries in Lagos and Cross-River States (1991)

Member of the NRC Presidential Campaign Organisation (1993)

Foundation Member of the Democratic Party of Nigeria (DPN)

Chairman of the constitution drafting Committee

National Legal Adviser, DPN (1997-1998)

Member of the APC
Social Activities
Member, Benin Club

Founding member/Elder, Afenmai Forum

Community Leader in Igarra, Edo State and Nigeria in general